I finally did it. I went to another homeland of mine. One that I can attribute half of my heritage to. That little country in the Northern part of South America connected to Latin America by Panama and home to some of my favorite ladies - Shakira and Gloria Pritchett, or if you prefer, Sofia Vergara. I'm not sure what I expected exactly. I knew I would be meeting heaps of family - all of my Grandma's sisters and nieces and nephews and great nieces and nephews - and that they didn't speak much, if any, English. And that I would be the first "real" American to visit. So, here are some of my thoughts on my Colombian Crash Course.
On Airport Policies
For a minute, think about what airports you have been to and what they are like. Specifically, the arrivals area. Some airports are really tame and empty, like St. Louis where you can't miss your brother waiting for you with a 'congrats on completing rehab' sign, some like Prague are a bit more exciting with a bunch of men holding signs with names on them or cute little Czech kids waiting for their moms or dads. Generally there's security walking around, monitoring things. Now take that idea and throw it out the window.
Let me describe the airport pickup situation - Now stick with me here.We've just arrived in Medellin. It's 11:45pm. There we are standing just outside the arrival gates waiting for my family (only a few of whom I've met). I'm there with my backpack on anticipating the initial meeting and what it will be like. We have no cell service or WIFI, so we're just waiting for the family to find us. Cue screaming and chanting from behind me - in run a bunch of people I don't know who I can only assume are relatives - hugging me, kissing me. Then one of the crew pulls what looks like a foot long party popper and confetti has filled the section of the arrivals area that we're currently inhabiting. Next, chanting, singing, and what else? Fireworks. A giant sparkler - the kind you see at expensive clubs or restaurants that they use when a rich kid orders a bucket of champagne or really expensive vodka - in the airport. Yes. I said it. In the airport. Then things calmed down a bit, and by that I mean some cousins of mine put cake in my face and we took shots of Guaro (from the bottle they brought with them) and drank a beer. And before you ask. YES. Yes, this all happened in the airport.
So kudos to Colombia for letting the rules slide so first-time visitors like me can start the party as soon as possible - at the arrivals.
On Stereotypes
Now, I had a few stereotypes in my mind before I arrived. Some I'm happy to say are true - like that Colombian people are really family-oriented and super touchy-feely. Hugs on hugs on hugs. Also, that Colombians like to have a good time. Please refer to above airport scene. Stereotypes I learned weren't true -
Futbol is life. Alright, they do like futbol. Of course they do. BUT they're also super into cycling. This was a complete surprise to me. I had absolutely no idea and was pleasantly surprised to see so many cyclists making their way up the mountain roads alongside motorcycles and cars. Another popular sport? Roller skating. There just so happened to be a roller skating competition while we were there bringing back all kinds of memories of Erik Von Detten and his suave golden locks in the Disney Channel Original Movie Brink.
All latin food is spicy. I fully expected to be in a permanent sweat during meals due to the spicy-ness but this wasn't the case at all. I'm happy to say the food was delicious though. The only real heat came when we asked specifically for a bit of hot salsa to go with our empanadas.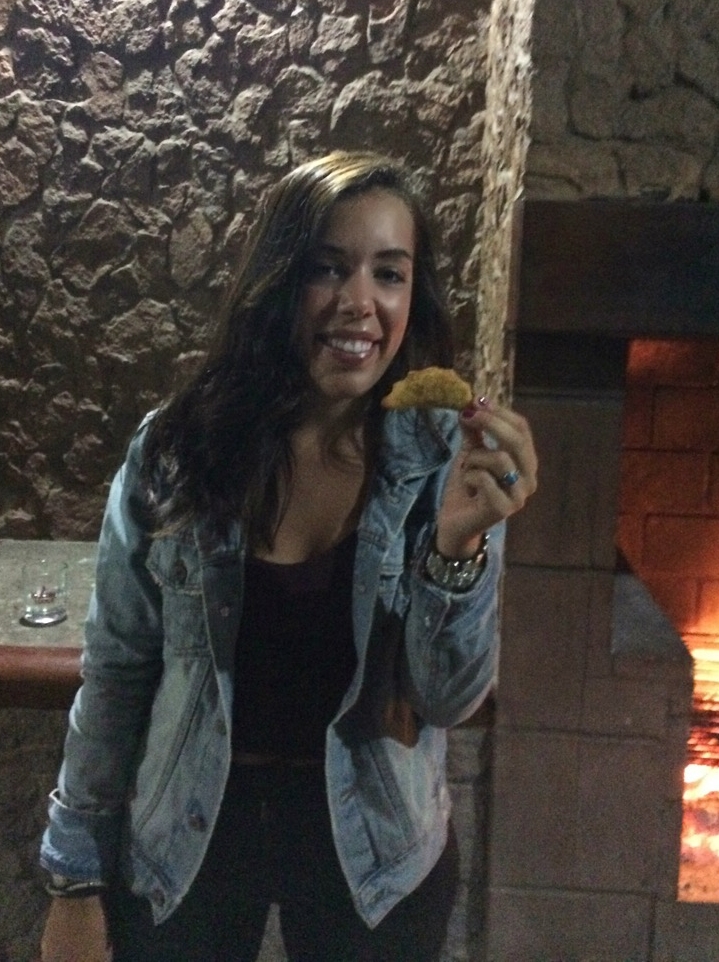 On Food
First of all, never have I ever seen so many fruits that look like they came from mars or avocados the size of my head. That being said, I thoroughly enjoyed the food. Almost everything I ate was deep fried - empanadas, chicharron, bunuelos. Although it's a tough decision, I would have to rank empanadas as my favorite Colombian food with chicharron a close second. Chicharron- besides being fun to say- is super crunchy and fantastically delicious. This fried pork skin specialty reminded me of extra crispy bacon. Another top contender was pandebono. Think about a super soft roll baked with cheese and served hot and essentially you've just imagined a pandebono. Sometimes called the 'Colombian bagel', the pandebono is normally served with hot chocolate or tinto (black coffee) as breakfast or a snack.
On Language
Time to admit I don't know a second language, not even a conversation level ability of a second language. Not after living in Czech for a year or after years and years of Spanish in school. Just to confirm that I'm not just talking myself down, after studying Spanish on Duolingo for a few days it congratulated me on being 1% fluent (an hour before I boarded my flight to Colombia to be exact). *Side note: I'm very proud to say -with the zealous that only a 1st Grader bringing home a paper with a gold star would have- I'm now an impressive 3% fluent.
I seriously underestimated the amount of Spanish I would need to know and in hindsight my trip would have gone from memorable to 'holy shit' had I practiced beforehand. But after only about 24 hours, I started picking up a little more here and there and learning some key phrases like "cafe con leche, por favor", "estoy bien, no tango hambre", "empanadas son la major" and when all else failed a "me encanta Colombia" was a solid crowd pleaser that got me cheers and hugs. *Self high-five*.
Something I've learned after my year of being in foreign countries where I can't communicate- smile and nod. As much as possible. If you're confused, even more. The more the better. People like it and think you're nice. It's a win-win. On the off chance they think you understand and bridge into even deeper questions in their native language, then maybe it's time to cut your losses and plead "English?" but it works 90% of the time.
So, final verdict? I think I'll have to use a bit of that 3% fluency here to accurately put my feelings into words. There's no better way to say it than "me encanta Colombia". I love Colombia - the food, the weather, the coffee, the landscape, and, of course, the people.